Park Mark - The Safer Parking Scheme
The Safer Parking Scheme is an initiative by the Association of Chief Police Officers (ACPOs). The aim is to reduce crime and the fear of crime in parking areas.
Comments taken from the British Parking Association
This initiative is much needed as vehicle crime accounts for a high percentage of all crime (up to 20%), and it is estimated that 22% of vehicle crime occurs in parking areas1. And the Safer Parking Scheme works at reducing crime ! Certain parking facilities that have received the Safer Parking Award, called Park Mark®, have seen a drop in vehicle related crime of over 80%.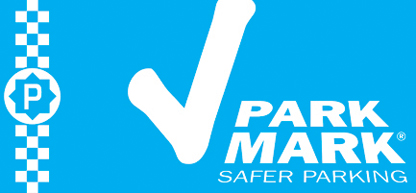 The Park Mark® Safer Parking award is granted to parking areas that have achieved the requirements of a risk assessment as conducted by the Police. These requirements mean the parking operator has put in place measures that help to deter criminal activity and anti-social behavior, thereby doing everything they can to prevent crime and reduce the fear of crime in their parking area.
For customers, using a Park Mark® Safer Parking area, means that the area has been vetted by the Police and has measures in place in order to create a safe environment.
Click Here to visit the Britsih Parking Association for information